I was browsing B&N and came across this book,
The Unit
by Ninni Holmqvist, translator Marlaine DeLargy. This is a dystopian novel about people who don't have children or other family and who don't contribute to society, and so they are sent to live in special "units" where they undergo "experiments" for the good of humanity. In the end they eventually end up donating organs to those in need. This sounds very good!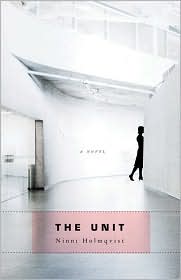 Ninni Holmqvist lives in Skåne, Sweden. She made her debut in 1995 with the short story collection Kostym [Suit] and has published two further collections of short stories since then. She also works as a translator. The Unit marks Holmqvist's debut as a novelist.

Marlaine Delargy has translated novels by Åsa Larsson and Johan Theorin, among others, and serves on the editorial board of the Swedish Book Review. She lives in Shropshire, England.

(

from Reading Group Guides

)
Until next time, Have a great "read"....